Fish.....It's What's For Dinner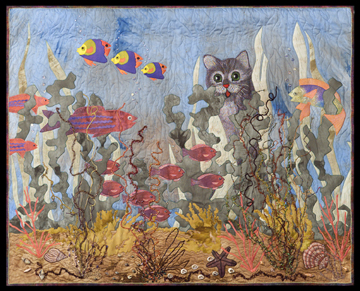 Background of dyed cotton sateen fabric by Leo9 Textiles of Austin, TX. Same fabrics for the two layers of green seaweeds as well as most of the fish. The cat is solid machine embroidery with Madeira threads. Next layer of ochre and salmon seaweeds of Leo9 fabrics. A variety of couched yarns. Separately stitched seashells as well as bead seashells. Extensive hand beading. Machine quilting overall. Original design.
One of a group of 8 art quilts winning first place in the Illinois quilt show 2005.
Juried in to the Quilter's Heritage Conference in Lancaster, PA 2006